We at OWS, can also pack, crate your material to industry standard. We have our own secure packing facility and we can accommodate all goods and specialise in chemicals & Instrumentation (PCU) to any size.
Wooden Crates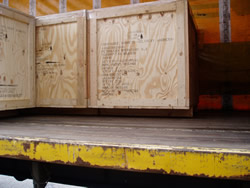 Wooden crates will be manufactured from heat treated timber in accordance with ISMP15 specifications & can be built be in compliance with all blue chip company procedures, as an example:
crates can be:
A. Sealed into a barrier foil. Suitable amount of desiccant would be used to minimise water vapor with sealed package.
B. c/w silca gel for one years storage. We pack suitable for longer than one years storage if required.
C. Inner foam packed within crates to prevent internal movement.
D. c/w Shock watch and Tip and Tell.
Palletisation
We can palletise all material to suit all packing requirements from general shrink wrap to a exotic as wooden crates above.
Major Projects
On major projects we can manage your logistics on a Door to Door basis. Complying with all your requirements and providing you with expediting reports and schedule suitable for your requirements.

Door to Door
Let OWS ease the logistical burden for you. We can uplift you goods from your premises pack material if required to your or sector standard and delivery to your end destination.